Breast surgery is one of the most commonly requested types of cosmetic surgery available, and our board-certified plastic surgeon is extensively trained and experienced in a variety of breast procedures. Dr. Amie Miller can develop a customized treatment plan designed to enhance breast volume, produce a more youthful and firm breast projection, or reduce breast size with exceptionally natural-looking results.
You can find more information on our breast surgery options below. If you have questions, or if you are ready to schedule a consultation here at Foothills Plastic Surgery, please contact our office today.
Explore Topics on This Page
Breast Augmentation
Breast augmentation can add volume to the breasts, enhance their shape and symmetry, and have a beautiful effect on overall body proportions. With a customized treatment plan involving the placement of silicone or saline breast implants, Dr. Miller can accentuate the appearance of the breasts with results that look natural.
Learn More
Breast Enlargement with Fat Transfer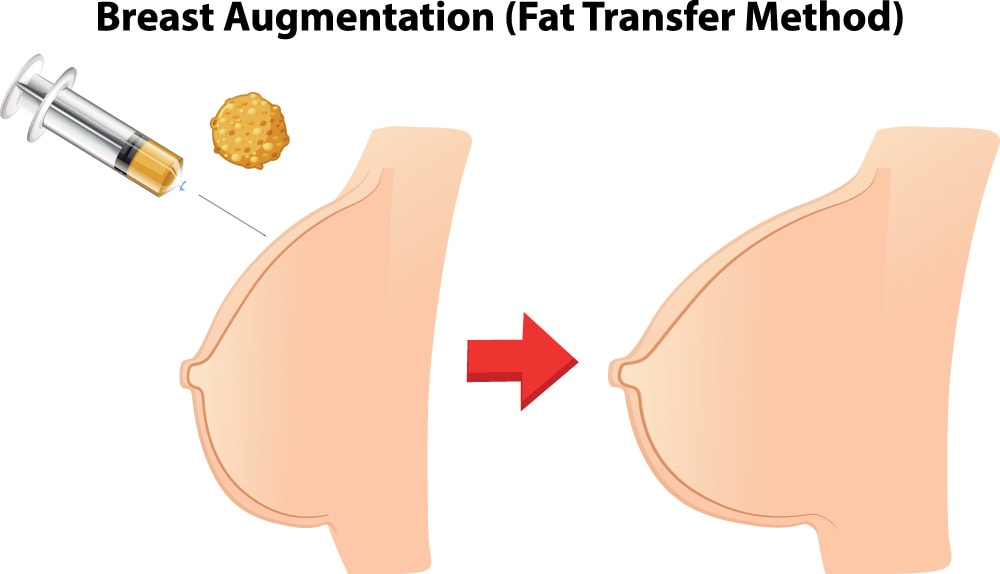 In some cases, women may not need breast implants to successfully augment the size and shape of their breasts. Breast enlargement with fat transfer is a procedure that takes excess fat cells from one area of your body and injects them into precise areas of the breasts to enhance volume and definition. In effect, this treatment offers a double-benefit: patients receive liposuction in another body area to harvest the fat cells, which will then be relocated to the breasts for additional enhancement.
Breast enlargement with fat transfer (sometimes referred to as "natural breast augmentation") is an outpatient procedure. After the liposuction component of the treatment is performed, the harvested fat cells will be filtered and purified in preparation for their transfer to the breasts. Dr. Miller will delicately inject the fat cells into the breasts to add volume or refine their shape and contour. Most patients usually only need about one week or less to recover from this treatment before going back to their normal daily routines.
It is important to understand that breast enlargement with fat transfer is not the best solution for every patient. It can only increase breast size by about one-half to one cup for most individuals, so it is often only recommended for patients who desire a subtler form or breast augmentation. With this in mind, fat transfer can sometimes be advantageous as an add-on to traditional breast augmentation with implants, as it can provide additional definition to the breasts and provide subtle enhancement for symmetry and shape. Dr. Miller will be happy to talk more with you about breast enlargement with fat transfer and help you determine if this is an option for your needs and goals.
---
Breast Lift

A breast lift (mastopexy) is a popular surgical procedure designed to improve signs of breast ptosis, which is the medical term for sagging or "drooping" breast tissue. This aesthetic condition is very common and is often due to the effects of the natural aging process, weight fluctuations over time, pregnancy and breastfeeding, or other factors. Breast lift surgery eliminates excess skin, tightens the remaining skin, and repositions the breasts and nipples to a higher area of the chest. This can produce a more youthful breast projection and breasts that look and feel firmer and more vibrant.
There are several different techniques that can be performed in breast lift procedures, and the one that is most ideal for your needs will depend on the severity of breast ptosis you are experiencing. During the initial consultation with Dr. Miller, she will conduct a breast examination and talk with you about your options. If breast lift surgery is the best solution, she can create a personalized treatment plan designed to meet your goals. Breast lift procedures are typically performed on an outpatient basis, and general anesthesia will be required. Most patients need at least one week of rest and recovery at home before returning to work or other normal daily routines. Temporary swelling and bruising are common side effects following breast lift surgery; however, post-operative discomfort can often be well-managed with medication.
---
Breast Lift with Implants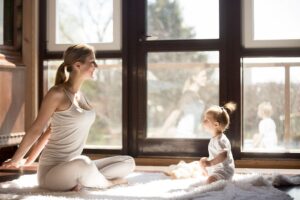 Women who would like to address breast ptosis (sagging) and enhance the size and shape of the breasts may be ideal candidates for a breast lift with implants. Also known as augmentation-mastopexy, a breast lift with implants is a combination procedure that can typically be performed in a single operation. Dr. Miller will lift the breasts to a higher, more "perky" position and place breast implants to increase their size and improve their shape. This outpatient surgery will be performed under general anesthesia and usually takes about three hours to complete. Patients can expect bruising and swelling in the breasts after a breast lift with implants procedure; however, medication can help control pain during the recovery process. Most individuals are able to resume their daily activities within two weeks, with a return to full activity in six weeks.
Breast Revision/Explantation
Breast revision surgery, sometimes referred to as an explantation or "implant exchange" procedure, is designed to surgically remove the breast implants after a previous breast augmentation. There are several reasons why a breast revision surgery may be considered. Some of these reasons include: to switch the current breast implants with newer models and/or a different size or shape; to address a complication that has arisen; to adjust the position of the implants; or to remove the implants altogether and return to the original breast size. Dr. Miller can talk with you about your needs and concerns during the initial consultation and create a customized breast revision treatment plan.
Breast Reduction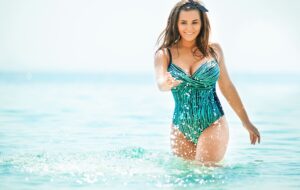 Breast reduction surgery can help women who are suffering from heavy, pendulous breasts that are simply too large for their body frame. Excessive breast tissue can lead to a disproportionate appearance and physical discomforts such as back and neck pain, indentations from bra straps, skin rashes, and other symptoms. Overly large breasts can also produce self-consciousness in social situations. A breast reduction can address these concerns and produce results that are in greater balance with the body's proportions.
Gynecomastia Surgery
Gynecomastia is a condition which affects men and is characterized by a collection of excess tissue in the breasts that produces an enlarged appearance. Dr. Miller offers advanced surgical procedures that can address gynecomastia and provide the chests with a flatter look. It is important to note that gynecomastia is a very common condition and can be due to excess fat deposits, excess glandular tissue, or a combination of both. In some cases, liposuction may be all that is required to achieve significant improvement. In cases where glandular tissue is the primary cause, Dr. Miller can utilize a different surgical technique to extract the excess. The ultimate goal of gynecomastia surgery is to reduce the appearance of enlarged breasts and create a flatter chest appearance. This treatment can typically be performed as an outpatient and often requires general anesthesia.
Gynecomastia is known to cause extreme self-consciousness for many men who experience it; however, they do not need to suffer in silence. In a confidential consultation, Dr. Miller can evaluate your needs and talk with you about customized treatment solutions designed to meet your expectations.
Contact Foothills Plastic Surgery
To learn more about our breast surgery procedures, or if you would like to schedule a consultation with Dr. Miller, please contact Foothills Plastic Surgery today.